New York City, the most populous city in the United States, is the dream of many people. You must have dreamed of wanting to go there right? This one metropolitan city has no death. New York was thought to be the capital of the United States, because of the density of this city and its influence on the world. Every day there are many tourists who are outgoing here.
No wonder, New York offers a variety of famous or famous places for tourists who will visit here. If you have the opportunity to go there, here are 10 of the most popular tourist attractions in New York that you must visit.
1. Fifth Avenue
Fifth Avenue is the name of the street in the center of Manhattan, New York City. Very suitable for you who like shopping. Fifth Avenue is indeed famous for its prestigious shopping centers. Various well-known branded items are all here. Prepare your ticket!
2. Times Square
Who doesn't know Times Square? You could say this is a hangout place for young people to hit America. Not if we go to America but don't stop by this super busy intersection.
The place that is the center of the Theater Broadway area is always bright when it's night, because the lights are colorful billboards. For photos here, surely your Instagram feed will become even more beautiful. The more hits!
3. 9/11 Memorial Monument
Remember the September 11 tragedy? The wrecked twin towers of the WTC were hit by a terrorist plane. The incident was indeed still imprint on everyone's heart, especially the people who live in New York. The area of ​​the ruins of this building has been built a monument named 9/11 Memorial. If you go there, stop by for a moment to commemorate the 9/11 WTC event.
4. Central Park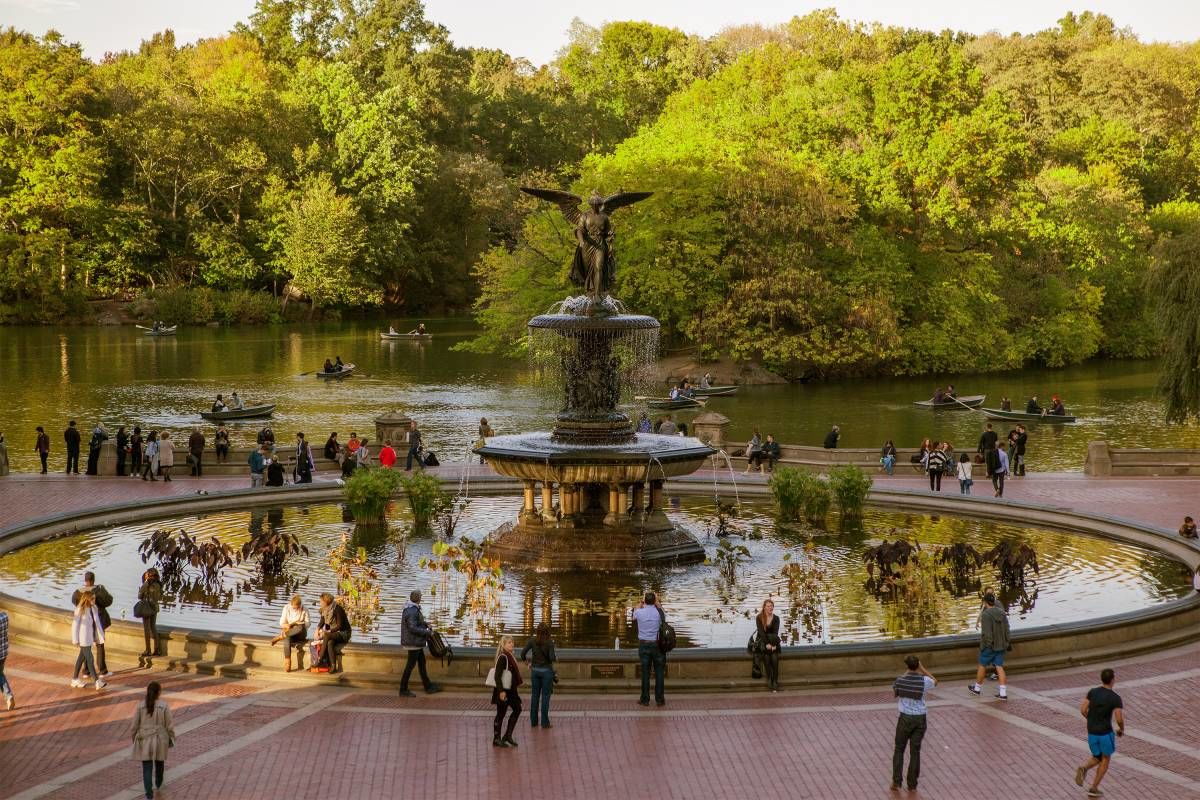 Want a cool atmosphere? Just come to the city park in New York City. The garden area features beautiful benches and garden lights. During the summer, Central Park usually holds various events. So it's more comfortable to hang out linger in the park.
5. Broklyn Bridge
If in San Francisco there is the Golden Gate Bridge which is famous in Western films, New York also has a bridge that is no less famous, the Brooklyn Bridge. Brooklyn Bridge is the oldest suspension bridge in the United States.
Try to go there at night, your eyes will be refreshed with sparkling bridge lights and beautiful scenery around the river. If you are tired of walking, you can also sit on a bench that has been provided on this bridge. Very comfortable right?
6. Empire State Building
Besides the Statue of Liberty, this building is also one of the landmarks of the city ​​of New York, you know. The Empire State Building consists of offices, but can also be used as tourist attractions. Many tourists go here to see the sophistication. Come alone to prove it!
7. Liberty Statue