Vacationing to America is not enough for just one week, because there are too many cities and destinations that you must explore when you are in California. So, when you have enough time off or just want to quit your daily routine. We suggest you decide California, Uncle Sam's country to be one of your tourist destinations.
California is a state located on the west coast of the United States. This country has the most population in the United States, and California is a state that has ethnic diversity. That's why California has an official nickname as The Golden State. California is the dominant driver of American culture and the country's economy. The country has the largest and most attractive cities in the US, namely Los Angeles, San Diego, and San Francisco.
California has beautiful natural landscapes featuring vast central valleys, high mountains, hot deserts and hundreds of miles of beautiful beaches. With an area of ​​410,000 sq km, this is why California is the 3rd largest state in the United States.
With the beauty that exists in California, you should make this country your tourism destination. articles Some attractions that you should visit while in California:
1. Golden Gate Bridge
The Golden Gate Bridge is a suspension bridge along the Golden Gate. This bridge is used to connect the city of San Francisco, California on the San Francisco peninsula and Mari County, California. The Golden Gate Bridge has a length of 2,727 m. Like other historical buildings, the Golden Gate Bridge is the work of Joseph Strauss. Since its completion in 1937 (for 37 years), this bridge has been designated as the longest bridge in the world.
In accordance with the meaning of the Golden Gate Bridge which means the Golden Door. This bridge is very famous throughout the world. According to Frommer's Travel Guide , the Golden Gate Bridge is the longest suspension bridge in the world, and the most beautiful bridge and most photographed in the entire universe. The American Society of Cicil Engineers, this bridge is claimed to be one of the best examples in bridge engineering, both aesthetically or in its beauty or structural design. Generally tourists who come to this place will be dropped near under the bridge near Toll Plaza. From here the tourists can watch the Golden Gate Bridge up close.
2. Golden Gate Park
Golden Gate Park offers unlimited beauty for visitors and locals. This place has 1000 hectares of gardens, meadows, lakes, golf, archery, and there are museums and art that have been recognized internationally. The construction of Golden Gate Park is to attract residents in developing the area.
Golden Gate Park is home to ten lakes, this place is one of the most popler places for you to visit. Many activities you can do in this place. Every year the park has more than 13 million visitors. Not easy because in this place you will see a lot of tourist attractions that you will get. Starting from the De Young Museum, the Japanese Tea Garden and conservation areas.
The manager provides a variety of spots for you to visit. Not only that, you can feel a picnic under the beautiful meadow tree, or you can go along the beautiful Lake Stow. So don't just visit the famous Golden Gate bridge. You must make this place one of your tourist destinations while in California.
3. Fisherman's Wharf, Ghirardelli Square & Aquatic Park
Fisherman's Wharf, Ghirardelli Square & Aquatic Park was once a development of the San Francisco fishing industry. In this place you can see fishing boats at Wharf pier. Besides that, you can enjoy the old sea adjacent to Hyde Street Pier, where this place is a place for historic ships to dock, where you can visit the Maritime Museum.
This place has many tourist objects that can be visited by tourists, including Aquarium of the Bay, street magic shows, Ship The Rocket, Restaurant, souvenir shops, and various amusement rides for children. For those of you who intend to visit Fisherman's Wharf, Ghirardelli Square & Aquatic Park, it is advisable to come at night because this place is great to be enjoyed for a night out.
4. Natural Bridges
When you plan to visit Natural Bridges, don't forget you have to wear comfortable sports shoes. Because you have to walk far enough to reach a natural bridge that has a shape like a cave above Coyote Creek. This bridge is not only one, but there are more than one bridge or cave at the end of this hiking trail , and all have a different beauty. If you want to explore further to the end of the cave, you must prepare swimwear because you have to dive into the river. But Ansda doesn't need to worry that the river in Natural Bridges doesn't have inside that can drown your body.
5. Yosemite National Park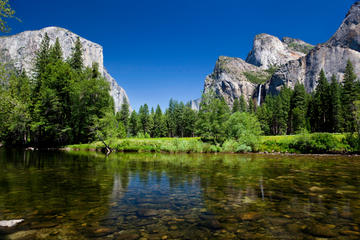 This place is in northern California, this national park not only attracts international tourists. But domestic tourists from various other states in the United States also visit this place. When you arrive at this place, be prepared to be amazed to see the various natural splendor created in this park.
You can see the giant El Capitan rocks, the beautiful valley of Yosemita Valley formed by glaciers thousands of years ago, and the Yosemite Falls waterfall that reaches 435 meters in height.
6. Napa Valley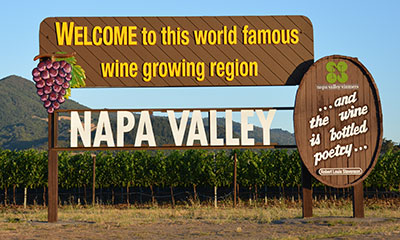 Are you a person who likes wine? Well Napa Valley is one of the places that you should visit while in California. Napa Valley is the Napa Valley in the California coast that produces fine wines. Napa Velly has been identified as the biggest wine producer for consumers worldwide. This place is suitable for cultivating a variety of wine variants, one of which is Cabernet Sauvignon which is recognized as the king of red wine in Napa Valley.
Explore the wineries while shopping and take the time to stop by one of the wineries to enjoy wine tasting. When you feel tired approaching, don't worry in Napa Valley you can enjoy a relaxing massage session at one of the many spas here. If you want to enjoy the experience, which is not forgotten you must take a trip with a hot air balloon to see the valley view from a height.
7. Death Valley
We recommend that you visit this place in winter or spring, because you don't have to bother to fight the heat when you explore the beauty of Death Valley. When you are in this place, you will feel that you are in the middle of a vast and unlimited stretch of sand. When you plan to come to this place, we recommend that you take a tour to see the remnants of the dead city, which will make your kudu stan
8. San Diego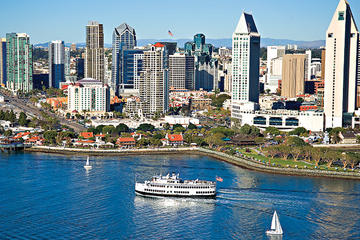 San Diego is a coastal city in Southern California located in the southwest corner of the mainland of the United States. Not only Pismo Beach, California has a variety of beach choices. If you claim to be a beach lover, San Diego must be on your vacation list while in California.
Not only are there many beautiful beaches that you can visit, this Mexican border city also has the main zoo in America, the San Diego Zoo in Balboa Park. And no less popular is San Diego Sea World which not only has complete marine animals, but there are many fun rides that you can try.
9. Lake Tahoe
Big lake that is located half in California and the other half in Nevada is an ideal tourist destination that is worthy of your visit in various seasons. Many activities that you can do in this place, such as swimming, sailing on a kayak or just sunbathing while enjoying the crystal clear lake water, shopping or hiking are popular activities you can do in the summer. While when you visit this place in winter, Lake Tahoe is usually filled with lovers of skiing, sledding and sleigh riding.
In this area, referred to as Tahoe, there are a number of outdoor skiing and recreation areas in the summer. This lake is the second deepest lake in the United States. Although most of the Lake Tahoe circle is a highway in close proximity so that the edge of the lake can be seen clearly. The Lake Tahoe Basin was formed by a geological fault fracture some 2 to 3 million years ago.
10. Santa Catalina
Santa Catalina Island, is a very beautiful little island. To get to this place you are required to use the ferry. On this island, you will not see private cars passing by. The vehicles allowed on this island, only bicycles, taxis and golf cart policies are taken because the island of Santa Catalina is small. Because the island is small, a day trip is enough to explore the island. Activities you can do on this island are swimming, sunbathing, fishing, or even diving. If you intend to spend the night on this island, camping is one of the popular choices on this island.