Los Angeles is a city in the State of California, United States. The city is nicknamed the City of Angeles. Los Angeles is a center of business, international trade, entertainment, culture, media, fashion, science, sports, technology and education. Los Angeles is a Hollywood base, the city is dubbed the "Capital of the World of Entertainment", in this city many famous celebrities. Not only is it famous for its entertainment media, Los Angeles also presents many attractions that boast.
Los Angeles can be used as a tourist destination to spoil your eyes and thoughts. Los Angeles is loaded with various places and activities that can entertain both children and parents. With relatively similar weather with Indonesia, you don't need to adapt too long. That's why Los Angeles is a pleasant tourist destination. The choice of tourist attractions in Los Angeles always captivates the tourists. Here are some of the best and most popular tourist attractions in Los Angeles, USA:
1. Hollywood Sign
Who doesn't know about the Hollywood sign in Los Angeles. This place is a landmark that has become one of the most famous cultural icons in America. Previously Hollywood Sign read Hollywoodland. Hollywood Sign stands at Mount Lee in the Hollywood Hills area. Establishment of this sign, initially as an advertisement for one of Hollywoodland's real estate. But in 1949, after the contract ran out, this board remained preserved and the word land was removed to Hollywood.
This place is perfect for taking pictures, to capture the moment. To get a good angel, tourists are not recommended to climb to Hollywood hills because of the very steep conditions and steep cliffs. The easiest place to see and capture photos of this Hollywood icon is in Hollywood and Highland Center.
To get to Hollywood & Highland Center by public transportation, such as Los Angeles County Metro. Choose Red Line and get off at Hollywood / Highland station.
2. Universal Studio Hollywood
This tourist attraction will bring you into the world of Hollywood cinema. There is a world ball that reads Universal Studio which is a landmark for Los Angeles. This place is a playground that is also used as a film studio. Universal Studio Hollywood has been operating since 1951. This place is a wajb area that you must visit while on vacation in Los Angeles, especially when you go on vacation with family.
Universal Studio Hollywood is divided into two different areas: Upper Lot and Lower Lot. In Upper Lot you can feel the city of Springfield, the city where the Simpsons live. In addition you can see the shooting location of King Kong, Jaws and Fast & Furious. Whereas the Lower Lot is home to Jurassic Park and Revenge of the Mummy. A water park themed Jurrasic Park invites you to meet the dinosaurs. In addition, Universal Studio also provides a studio tour by visiting about 13 blocks. These blocks are the place to shoot some famous Hollywood-produced films. Universal Studio Entrance Ticket is priced at around USD 115. To get to this location you can use Metro Red Line and get off at Universal City / City Station Studio and continue with the free bus shuttle provided by the manager.
3. Walt Disneyland
Disneyland is located in Anaheim, about 45 minutes by car from the city center. This place is the only theme park that was designed and built directly supervised by Walt Disney. This place is perfect for those of you who happen to be vacationing with loved ones. In this place you feel living in luxurious castles like princesses in the film Sleeping Beauty. In addition, you can treat your curiosity about a fantasy world that you previously only felt when watching in animated films.
This place has been very popular among Disney cartoon lovers. If you are one of them, this is a surge for you. More than 50 years Disneyland has presented Disney's fantasy world into reality. Disneyland Park is divided into Main Street and seven other districts. In this place you can find Disney characters and can take pictures together.
It is recommended if you want to visit Disneyland, you better come on a normal day so you can explore the existing vehicles more freely. To get to Disneyland, you can use Anaheim Resort Transit System (ART) and The Disneyland Resort Express. Disneyland admission tickets are priced in the range of USD 7 to USD 150.
4. Walk of Fame
This place is another landmark of the city of Los Angeles. A 15-block sidewalk on Hollywood Boulevard and three blocks on Vine Street. This is where the names of public figures are immortalized. Not only international actresses and actors, but singers, directors, producers and cartoon characters are here. The names of public figures are written on terrazzo and brass. There are currently more than 2750 names on the Walk of Fame.
If you visit here, you can buy souvenirs from the Walk of Fame. Because this place is located near the highway. Approximately if you want to come to this place, whose name will you take a photo?
5. Los Angeles County Museum of Art
This place is an art museum on Wilshire Boulevard. The Los Angeles County Museum of Art (LACMA) is the largest art museum in the western United States. There are more than 150,000 works of art throughout history to date. The artwork exhibited not only came from America, but many works of art came from Greece, China and Egypt.
The museum is open every day except Thursday, Thanksgiving and Christmas. Art collections from China, Korea and Japan such as statues and antic ceramics can be found in the Asia Art area. Not only that, you can also find works of Islamic calligraphy in this Los Angeles County Museum of Art. The Islamic Art area comes from Persian and Turkish artists. The collection at LACMA is very complete. In this place there are nine areas that display different artworks. To get to this location you can use Metro 20 & 720 and get off at Wilshire Boulevard and Fairfax Avanue. From here you easily find LACMA.
6. The Grammy Museum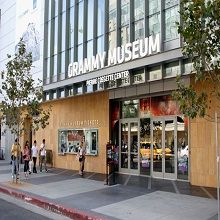 Are you a music lover ??? Surely this place is perfect for you. The Grammy Museum is an interactive and educational museum on the history and winners of the Grammy Awards. If you arrive at this place, you will get a lot of information about Grammy Awards through cutting-edge multimedia such as touch screens, videos and recording booths.
The Grammy Museum carries the concept of musical triumph in its era. Initially the museum was dedicated to the memory of the Grammy Award winners. Through this museum, you can learn about genre and music history. Not only that, the museum also has a collection of objects of historical value such as costumes, musical instruments, song lyrics with original writing, LPs to audio and video recordings. To visit The Grammy Museum, you can use Metro Blue or Expo Line and get off at Pico Station then walk for two minutes.
7. Santa Monica
In the western part of Los Angeles, you can get in direct contact with water. At this location you can visit many beaches, such as: Venice Beach, Santa Monica and Malibu. Don't worry when you haven't found the gift you want to buy, the roads to the beach are packed with shops and restaurants.
When you stop by Santa Monica, don't forget to stop by the dock where the gate is often highlighted on your TV screen when there is a broadcast about Los Angeles. Santa Monica is an area on the coast of Los Angeles. In this place you will be offered urban energy and dynamic city atmosphere. National Geographic named Santa Monica as one of the 10 cities with the best beaches in the world. Santa Monica Beach is a magnet for tourists. There are a lot of activities you can do here, like benerang, surfing or just playing beach volleyball. Towards the evening, the choice to enjoy the sunset in Santa Monica makes you feel at home for a long time.
8. Farmers Market
No need to worry, when you want to get around Los Angeles specialties you can visit the Farmers Market. This place is a culinary center in Los Angeles. Farmers Market has been around since 1934, this place is one of the places to gather Los Angeles residents, not only that tourists also often visit this place. The main attraction of this place, is a row of restaurants and food stalls that certainly can spoil your stomach.
Famers Market not only offers American and Los Angeles specialties. In this place there are many culinary choices such as Latin American and Asian specialties. So if you miss Asian specialties, you can easily get on the Farmers Market.
Farmers Market is not only a culinary center in Los Angeles, but now the Farmers Market has become a landmark and should be visited. To get to Farmers Market, you can use Metro Bus 217 and get off at the intersection of Fairfax Ave and 3rd Street.
9. Olvera Street
For those of you who like shooping, there are some places that you should visit like Olvera Street. This place is a street called Olvera Street. From here, Los Angeles was born, because Olvera Street was the first street in Los Angeles. This place is a favorite place to shop. Until now Olvera Street is still awake the authenticity of the building. A dynamic atmosphere is felt from the colorful buildings and stalls that are here. To get to Olvera Street, you can use Metro Red, Gold or Blue Line and get off at Union Station then cross the road to Alemeda Street.
Another shopping area that you should visit is Robertson Boulevard. World celebrities who often shop in this place. In this place there is also a "lvy" restaurant, which is a restaurant that is the favorite point of the paparazzi to take photos of world-class celebrities.
10. Griffith Observatory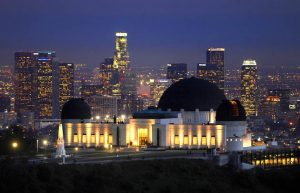 One of the tourist attractions in Los Angeles is the Griffith Observatory. If you come to this place then you will get a very beautiful view that you can see the overall beauty in Los Angeles. This tourist spot in Los Angeles can be visited at night or during the day. If you come during the day and you come during holidays then you will feel a happy holiday because here if holidays are filled with visitors and other tourists both inside and outside. And the drawback if on a holiday is a difficult parking spot because too many people visit this place.
And when the day has begun, the visitors are slightly reduced. You can see the scenery during the day and the sunny weather by seeing the vast and beautiful LA, when in the afternoon you will be given a view with the twinkling lights in the city of LA. For free, you can immediately know who is in space and watch all about space, which is located in the suburbs of LA.
11. Sunset Boulevard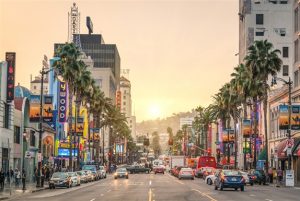 This tourist attraction in LA called Sunset Boulevard is one of the tourist attractions that has many fruit gardens and for now, Sunset Boulevard is the most known tourist spot in parcel land. On Sunset Boulevard we can see the sunset beautifully and amazingly. If you want to vacation in LA then you are also required to visit this place. Here you can also enjoy a natural atmosphere, you can see the sunset directly.
This place is also suitable for those of you who want to relax in the afternoon by enjoying your vacation. If you are already in LA, you cannot take the time to stop at this one tourist spot. Beautiful scenery - the scenery is in LA so you can't miss the most beautiful moments in LA.
12. Staples Center
Staples Center or familiar as a multipurpose hall building located in Los Angeles. Since its inauguration in 1999, this building has been functioned as a meeting hall, exhibition, sports competition offerings and even music concert celebrations.
This building is one of the buildings of California's pride. This strong-standing building has several times become a place for celebrating prestigious events such as the Grammy Award or world-class music awards.
13. La Brea Tar Pits and Museum
Not only its natural beauty, Los Angeles also has a museum that displays several animal skeletons, such as wolves, tigers, camels, and many more. The skeletors in this museum are very well maintained. La Brea Tar and Museum is an interesting place for you to visit. Having a tour of history about fauna history in California seems to be worth trying.
14. Venice Canals Walkway
Not infrequently when you hear the word Venice, the first thing that comes to mind is surely a Venice beach and Boardwalk. But it turned out that Venice meant here was a canal. This canal is like a gem tucked a few blocks from the beach. In this place there are several bridges along the canal that are used to cross from one side to the other. to support the beauty of the canal, there are stretches of sidewalks on each side of the canal for walking, jogging, or cycling.
This Venice Canals Walkway is south of downtown LA. These original canals were built in 1905. Venice Canals Walkway is a tourist spot that is worth visiting when you visit Los Angeles. When you walk on this canal, you will feel like walking into a fantasy film. There are canoes in each of the canals. There are even some canoes that have a charming design. Not only that, every house in this place has its own uniqueness. Everything in this region contains beauty, peace and tranquility. The attraction that is in this place you should feel.